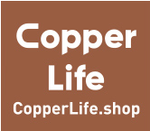 Copper Life / 카퍼라이프
South Korea
Premium Partner
오정구 수도로163번길 17 (내동) / 17 Sudo-ro 163beon-gil, Ojeong-gu,
Contact Seller
Anti-bacterial, Anti-virus / Deodorant / Anti-static / Electromagnetic wave block / Anti-Dust / Body temperature maintenance
Start consuming for the planet and us with COPPER LIFE.
100% Made in Korea production from fabric to finished products!
Thorough safety verification and trust come first!
We offer the best quality and reasonable price with 30 years of textile know-how and technology.